Princess Angelika Jarosławska Sapieha Sent the Message from Cambodia to the World
17 października, 2019
In Siem Reap, Cambodia, a lecture was led by Princess Angelika. The lecture was to draw the world's attention to everyday problems faced by Cambodia.
Why the lecture was near Angkor Wat temple? The princess replied that it is because the temple is the heart and soul of Cambodia and a source of fierce national pride.
It has become a symbol of Cambodia, appearing on its national flag. Cambodia has a wonderful, rich history that dates back to the Khmer Empire in the early IX century. Angkor Wat is a temple complex in Cambodia and is the largest religious monument in the world. It was built by King Suryavarmen II in 1113 CE. The temple shows the great wisdom of the Khmer who were able to design and build a work that delights the whole world. This group of buildings is 1.3 km from the royal city of Angkor Thon. Angkor Wat is the Hindu temple of Angkor Thom - the last capital of the Khmer Empire built in the 12th century by King Jayavarmon VII.
Already at the beginning of the year, at the Forbes summit, Her Serene Highness Princess Angelika Jarosławska Sapieha, who is actively involved in humanitarian activities around the world, pointed out that she would strive for the creation of a new currency – World Peace Currency that would support peace, humanitarian and human rights projects all over the world. This currency is based on a blockchain hybrid. As the first royal hybrid currency in the world, based on such a complex blockchain chain, it was presented on the world's largest forums in Asia, Europe, Russia, America, and the Vatican.
Let us remind you that in May 2019, Princess Angelika Jarosławska Sapieha received the title of Ambassador for Peace by SPIA HSD Soldiers of Peace International Association Humanitarian Support and Development, United Nations Peacekeepers NGO's with General Consultative status of United Nations Economic and Social Council. She is also Ambassador of Entrepreneurship of Women of the International Network of Female Entrepreneurship Ambassadors.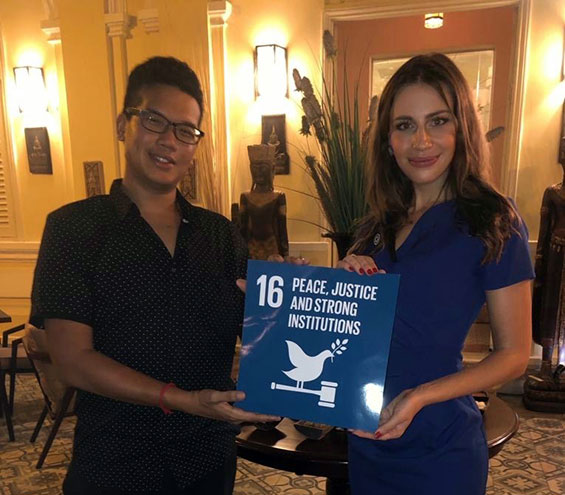 Polish Princess extend her activity in Asia.
As a longstanding social activist, humanitarian and member of global royal families community HSH Angelika Jarosławska-Sapieha, together with the UN Peacekeepers NGO's will provide necessary measures on collections of funds and providing of medical support for rehabilitation of kids - victims of conflicts.
Cardinal Robert Sarah congratulated and blessed Princess for these actions, thanking her for her sensitivity and dedication in projects so valuable for the world and humanity. Princess Angelika Jarosławska, Peace Ambassador is concentrated on actions in Cambodia and was inspired by her colleague - Angelina Jolie, UN Goodwill Ambassador. Angelina Jolie is an outstanding activist. Angelina Jolie first visited Cambodia in 2000 when she made the film Tomb Raider. Since that time, Angelina Jolie maintains a deep connection with Cambodia.
Landmines
In Cambodia, the mines were spread throughout the country over several decades, the result of constant warring between the Khmer Rouge and its opposing factions. According to the information from Halo Trust: landmines laid during the ousting of the Khmer Rouge in 1979 and throughout the 80s and 90s have had a devastating impact on the people of Cambodia. Over 64,000 casualties and more than 25,000 amputees have been recorded since 1979.
Peace Ambassador Princess Angelika Jarosławska Sapieha, continues the work of Princess Diana. Diana, Princess of Wales, was an outstanding anti-landmine activist. She led a campaign for a worldwide ban on landmines.Recently, Prince Harry has visited the former minefield in Angola where his mother Diana, Princess of Wales, walked 22 years ago. Princess Angelika appeal to Prince Harry to jointly take patronage over the de-mining of Cambodia, where HALO Trust opened the office this September.
Recently, Princess Angelika had an honor to meet His Highness Noryvong Nikko Sisowath from the Royal House of Sisowath in Cambodia.
The lecture was attended by students, monks, people injured as a result of the explosion of mines, as well as many people visiting Angkor Wat temples.

Abdul Isri Ischamaewe