State Archaeological Museum exhibits restituted early Medieva. The opening of the "Lost-Found" exhibition.
March 18, 2013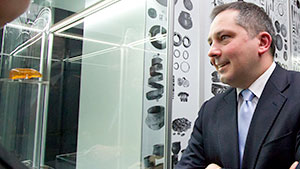 "This exchange represents the effective closing of one of many issues in Polish-German relations dealing with the restitution of cultural goods that have to do with World War II," recalled MFA Undersecretary of State Maciej Szpunar during the opening of the "Lost-Found" exhibition at the State Archaeological Museum in Warsaw (15 March). The Polish Ministry of Foreign Affairs was instrumental in returning the valuable archaeological collections to Poland.
The "Lost-Found. Szczecin Collection of Pomeranian Antiquities" exhibition presents artefacts from the National Museum in Szczecin which received them thanks to a Polish-German exchange. Previously housed in the Museum in Stralsund, they originate from territories forming part of present-day Poland where they had been found. Thanks to the Polish Ministry of Foreign Affairs, the artefacts were handed over to the museum in Szczecin. In return, Germany received artefacts excavated from the territory of Mecklenburg-Western Pomerania that had been housed in Szczecin.
"Today's exhibition is the result of breaking through an old symbolic wall between two neighbouring states, representing different ways of thinking about their common cultural heritage. We are happy that these barriers have been surmounted and with good effect for both museums," noted Deputy Minister Szpunar.
Among the five hundred archaeological objects returned to Poland are artefacts dating back to pre-historical and early Medieval times: coins, ornaments, weapons, vessels, urns, tools, and small figures. According to archaeologists, this exchange made it possible to put right the post-WWII situation and enabled a fuller presentation of archaeological objects in the place of their origin.
The Warsaw exhibition was organised in cooperation with the National Museum in Szczecin under the auspices of the Minister of Culture and National Heritage and the Marshals of the Mazowieckie and Zachodniopomorskie Voivodeships.
At the opening of the exhibition on Friday, the Director of the National Museum in Szczecin Lech Karwowski expressed special thanks to Professor Wojciech Kowalski, the Polish Foreign Minister's Plenipotentiary for Restitution of Cultural Goods.
MFA Press Office