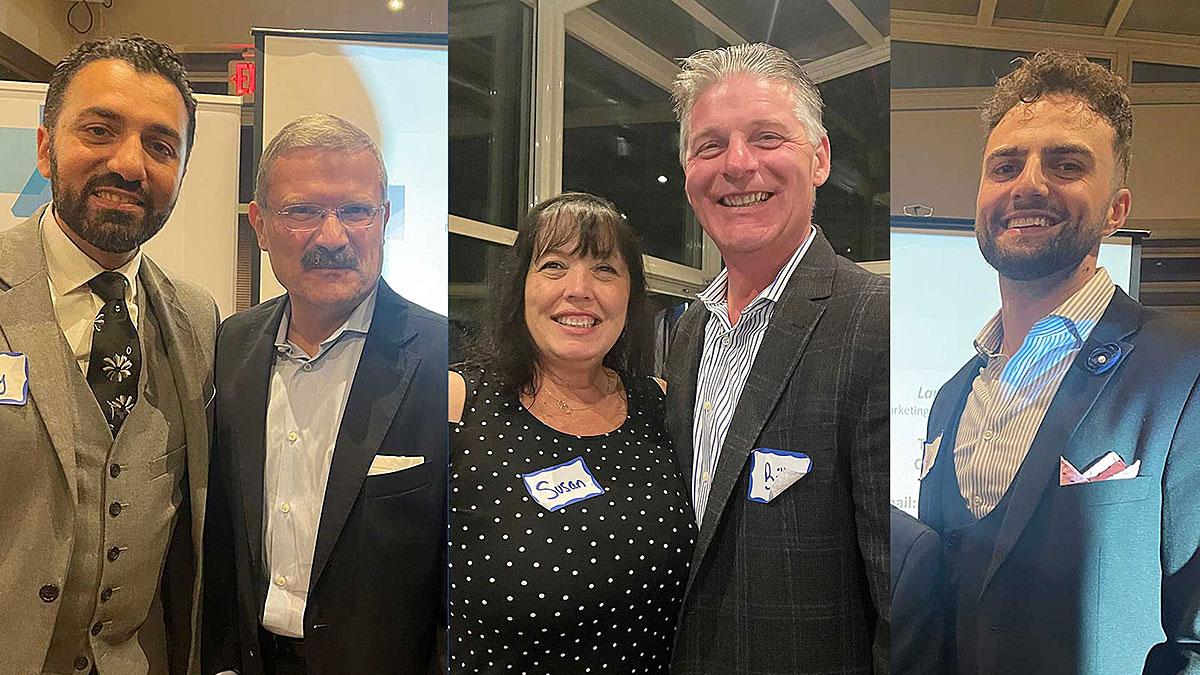 On Thursday, August 24th, Dr. Dariusz Nasiek, MD, a prominent pain specialist from Allied Neurology and Interventional Pain Practice, PC, hosted a networking dinner and seminar that radiated optimism and potential. In an era where professionals from myriad fields actively seek collaboration, Dr. Nasiek's event shone brightly as a beacon of hope and opportunity.
These meticulously organized monthly seminars are far more than mere gatherings. They are platforms where brilliance converges, where thought leaders from the medical and legal domains come together, exchanging invaluable insights and exploring potential synergies. More than just an educational rendezvous, these seminars are a nexus for nurturing partnerships and catalyzing innovations.
The event was graced by influential sponsors Susan Ruiz and Bill DeIasi from Hudson Regional Hospital and dynamic duos, Danny Nektalov and Alex Rafailov, from AV Chemist.
Hudson Regional Hospital
Launching the evening's discourse, Susan Ruiz provided a glimpse into the exceptional services of Hudson Regional Hospital, Northern New Jersey's crown jewel in healthcare. Nestled in Secaucus, this full-service hospital is a testament to medical excellence. Their relentless commitment to superior care, augmented by cutting-edge technology and a brigade of top-tier physicians, is commendable. Their investment in sophisticated robotic technologies speaks volumes about their dedication to patient care. The hospital seamlessly partners with various insurance plans, ensuring holistic healthcare accessibility.
AV Chemist: Revolutionizing Pharmacy Services
Following Ruiz's enlightening address, Danny Nektalov, the visionary CEO and Co-Founder of AV Chemist Pharmacy introduced attendees to his avant-garde pharmaceutical enterprise. AV Chemist, an industry stalwart, specializes in workers' compensation and injury prescription services. With an unwavering commitment to the rights of injured workers, their state-of-the-art system simplifies the process of procuring prescribed medications. Rooted in innovation, their pharmacy promises reliability and efficiency, ensuring that every patient receives their medications at their doorstep as soon as the next day! Their dedication to fostering an impeccable experience for clients, built on pillars of professionalism and compassion, underscores their belief in bridging the chasm between medical prowess and patient wellness.
Decoding the Neurological/Pain Management Evaluation Report
Dr. Dariusz Nasiek capped the evening with an in-depth discussion on the intrinsic value of the Final Report for Pain Management/Neurological Evaluation. This document, pivotal in the medical landscape, encapsulates a patient's neurological journey. From initial assessments and diagnoses to comprehensive treatment plans and prognoses, this report is essential for multiple stakeholders. For consultations with Dr. Nasiek, appointments can be arranged at 201-894-1313.
An Evening to Cherish
The ambiance at Dr. Nasiek's event was electrifying. Professionals from diverse backgrounds forged connections, shared aspirations and laid the groundwork for future collaborations. Beyond business exchanges, it was an evening of camaraderie, where stories were shared, friendships were forged, and dreams were nurtured. The evening wasn't merely an event but a celebration of collective aspirations and mutual growth.
Anticipation runs high for Dr. Nasiek's next seminar on Thursday, September 14th, at 7 PM, once again at the elegant Royal Warsaw. A heartfelt note of appreciation to Hudson Regional Hospital and AV Chemist for their generous sponsorship, which played a pivotal role in orchestrating such a memorable evening. Our gratitude also extends to our cherished friends, invaluable contributors, and the broader professional community whose unwavering support has been the backbone of these successful events.
Pain Management
185 Grand Avenue
Englewood
, NJ
tel:
Click phone# to call
973-773-7730
and tell them you found their ad in Polish Pages
SPONSORED ARTICLE
For the most up-to-date information, please contact the company directly.
The photos contained in the article serve only as an illustration of the article.
Other articles: HEALTH, BEAUTY, LEISURE
SEE MORE