Tokyo - the massive Metropolis with Contrasts and Contradictions
June 19, 2021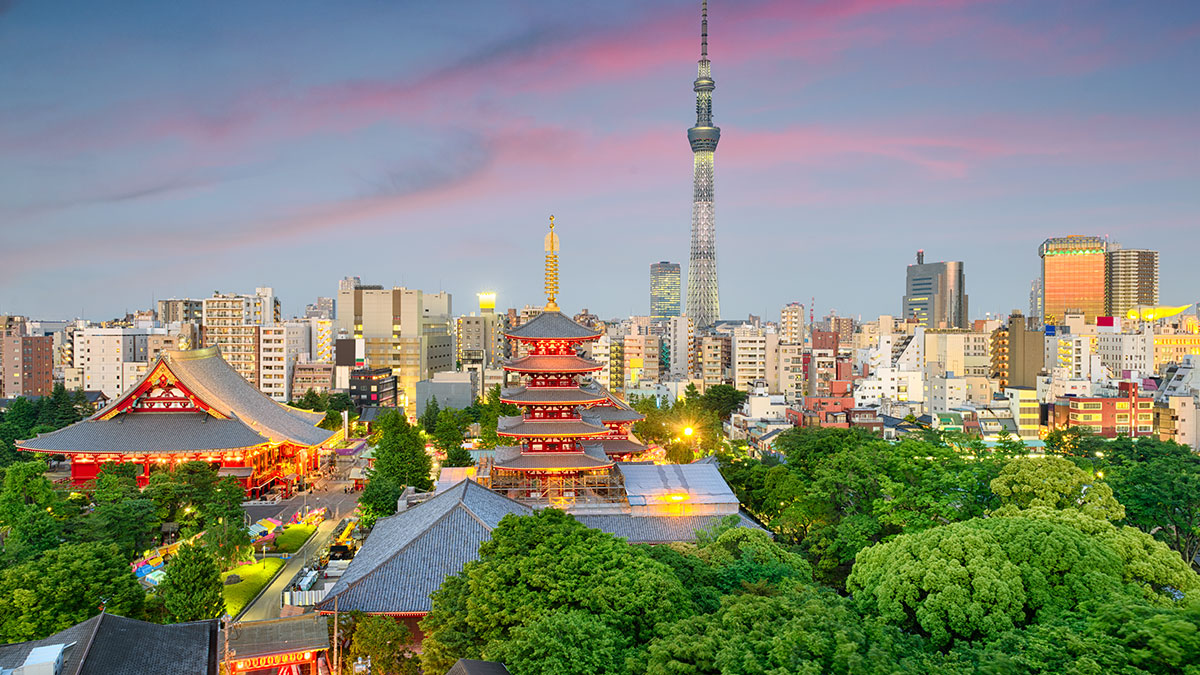 Tokyo - a diamond of a city: a multi-faceted, sparkling metropolis which is rock-hard when it comes to business. And difficult to take in… There is virtually nowhere else in the world which is so full of contrasts and (apparent?) contradictions.
The massive metropolis has around 14 million inhabitants. But where are they all? The answer soon becomes clear in the rush hour, when the doors of the underground trains and trams will not close and the roads and urban motorways are hopelessly clogged up, or on the weekends, when Disneyland and the other amusement parks are amass with people.
But Tokyo also has a more serene side, with extensive gardens, avenues of cherry trees, Buddhist temples and Shinto shrines set amidst the skyscrapers, all places of tranquillity and contemplation. And what museums! Not only does the city have huge world-famous collections, it also has charming little exhibitions, such as the museums of swords, kimonos, sake, or bonsai, where you can find out a great deal about the culture of everyday life in Japan.
Disneyland
If you really want to enjoy Mickey Mouse and his friends in all their glory, the best thing is to buy a day pass which is valid for all the attractions at this children's paradise, opened in 1983, including the 'Cinderella Castle' and the popular 'Big Thunder Mountain'. Another highlight is the brand new 'BraviSEAmo' spectacular by the harbor, which makes hearts beat faster in the evenings and children's eyes light up.
Some 15 million people visit Japan's Disneyland every year. Interestingly, there are three times as many adult visitors as there are children… It gets very busy at the weekends, on bank holidays and during school and university holidays (mid-July to the end of August).
Ginza
Lighting effects and brightly lit billboards, expensive boutiques and well-dressed people - the Ginza's former reputation as the most progressive, fashionable shopping street in the Japanese capital may have taken a bit of a battering, but a stroll through the department stores with their arts and crafts departments is still a lot of fun.
You might think about buying a kimono, fans and a parasol for those hot summer days. There are lots of photo and art galleries which are good hunting grounds for fans of modern Japanese art. The Sake Museum tells you everything you ever wanted to know about Japan's national drink, and also offers you a chance to sample it.
Meiji Shrine (Meiji-jingu)
This Shinto shrine was built in 1920 in honor of Emperor Meiji, who died in 1912. It was destroyed during World War II and then rebuilt in 1958. It is set amidst the tranquillity of a large park, where the wonderful iris garden of Empress Shoken comes into bloom at the end of June.
The gravel path to the shrine leads through a huge gateway (torii) made of cypress wood. The wide, sweeping roofs are characteristic of Japanese temple buildings. There are extravagant celebrations, complete with courtly music and bugaku dancing, here on May 3rd, November 1st, and to mark the Emperor's birthday on December 23rd.
Tokyo National Museum (Tokyo-kukuritsu-hakubutsukan)
Any description of this museum must include countless superlatives! The collections, which are spread across four buildings, include 90,000 exhibits, making them the world's largest, most comprehensive collection of Asian art. Whether you enjoy Chinese, Korean or even Egyptian styles, every fan of Asian art will find something of interest and plenty of souvenirs to take home.
The main building is devoted to Japan and houses a stunning collection of sculptures, paintings, prints, calligraphy, ceramics, metalwork and enamel work. A considerable amount is categorized as 'important cultural heritage' and a 'national treasure'. A small building next door exhibits the treasures of the Horyuji monastery in Nara (Thursdays only).
Ota Museum (Ota-kinen-bijutsukan)
Japanese colored wood carvings (ukiyo-e) long ago captured the hearts of Western art lovers, whose eyes light up at the mention of names like Harunobu, Hiroshige and Hokusai.
This choice collection of around 12,000 items - 80 to 100 exhibits are incorporated into an exhibition whose theme changes every month - offers an opportunity to study the whole range of this form of art, or simply to sit on one of the tatami mats in the contemplation corner and lose yourself in the pictures.
Senso Temple (Sensoji)
The lively and picturesque shopping street of Naka-mise behind the Furaiji-mon, the gateway of the god of wind and thunder, leads directly to the Senso or Asakusa Kannon Temple, which was named after its patron saint Kannon, the goddess of mercy.
Two larger-than-life statues of gods guard the gateway to the forecourt of the temple hall. Incense, which is believed to have healing properties, burns in a bronze vessel, beside which is a fountain in which you wash your mouth and hands before entering the temple. Inside, believers offer their prayers and small monetary gifts to the goddess. In May, there are celebrations to mark the Sanja-matsuri shrine festival.
Sento
First you have to wash thoroughly, then you bathe in hot water! Japan's public baths (sento) offer bodily cleansing and relaxation - and are discreetly divided into single-sex sections. They are also real centers of communication, which is why many Japanese prefer them to using the tub at home. Bathhouses can be recognized by their high chimneys.
Recommended sento baths include Koshi No Yu (1-5-22 Azabu Juban, Minato-ku, Tokyo, tel. 81-3-3401-8324, daily except Tue, 3 pm-11 pm) and the Dai Ni Sakura Yu (6-6-2 Meijiingu-mae, Shibuya-ku, Tokyo, tel. 81-3-3400-5680, daily except Mon, 3:30 pm-11 pm). Don't forget your sponge bag!
Tsukiji Fish Market (Tsukiji)
Preparations begin at 2 am, when the traders bring in the freshly caught fish and seafood. The word's largest fish market springs into action at 5 am on the dot, when the auction begins!
The first people to turn up are the wholesalers, and hand signals and words begin to fly through the air. The whole event takes place at breakneck speed and in several different places at the same time. Thousands of people are involved. By 7 am, when the retailers join in, some 6,000 tons of goods have already changed hands. If you fancy trying a sample, the market is lined with restaurants and shops.
© Berlitz Publishing/Apa Publications GmbH & Co KG, Singapore Branch, Singapore
Other articles: HEALTH, BEAUTY, LEISURE
SEE MORE