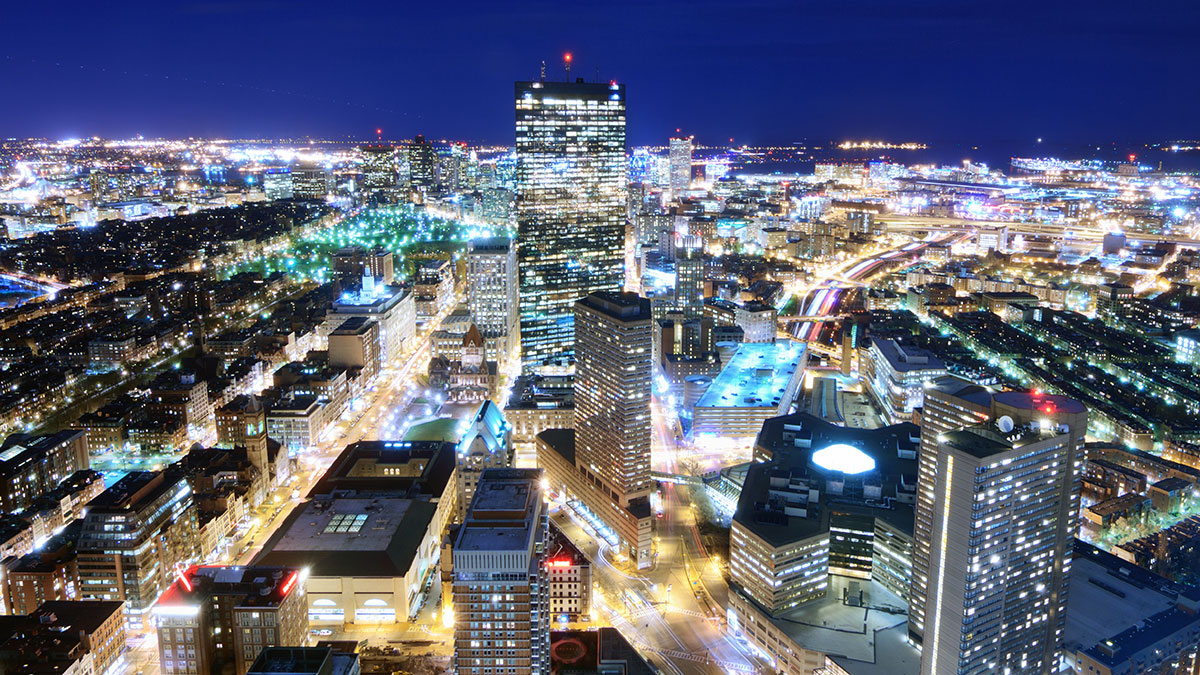 Skyline of downtown Boston, Massachusetts, USA
Due to its intellectual elite, who strongly influenced business and artistic achievement throughout North America, Boston was known in the 19th century as the "Athens of America".
Indeed, the metropolis still has a strikingly European atmosphere; rooted in neighborhoods like Charlestown or North End in which daily traffic wends its way through narrow streets atypical of America. The universities in the suburb of Cambridge are like their English counterparts, on which they were modeled. Literature and the arts are still strongly influenced by European trends.
In contrast with other U.S. metropolitan cities, the center of Boston has remained small and clearly delineated. The architecture of many of its buildings is reminiscent of Europe. The fight for independence marked Boston as an American city. Today, the skyline has its share of gleaming high-rise buildings, including New England's highest skyscrapers, and the suburbs boast gigantic shopping complexes.
Quincy Market
The market, which is actually called Faneuil Hall Market, was given its name in 1826 when it was founded by Mayor Josiah Quincy. Together with the adjacent halls of the North and South Markets, it strongly resembled the Parisian open-air market halls then. As more and more stand owners began to leave in the 1960s for less costly locations in the suburbs, the glass façades began to deteriorate.
It was not until a large-scale inner-city rehabilitation program was undertaken ten years later that Quincy Market gained a new lease of life. Today, it would be hard to imagine Boston's city center without the colorful blend of vegetable, fruit and sausage stands, or without its many cafés and restaurants.
Back Bay
Where, today, Boston is at its most European, foul-smelling mud flats still existed 150 years ago and numerous mills were driven by tidal currents at the dams along the Charles River. When the population boomed during the 19th century, Boston's municipal administration decided to fill in the eyesore with earth. The newly acquired land enlarged the city by one-third.
Inspired by the modern magnificence of boulevards and symmetrically laid out residential areas of Paris, it took architects only a few years to have a lovely district designed and built here - with their own broad "Champs-Elysées" (better known as Commonwealth Avenue), buildings with symmetrical façades and plenty of green space, such as the Public Garden or Back Bay Fens. Brilliant shopping facilities, many restaurants and choice galleries will also get your heart racing.
Beacon Hill
Nothing remains of Boston's former red-light district. When the parliament building became too small at the end of the 18th century, architect Charles Bulfinch was commissioned to build the State House on Beacon Hill. Part of the hill was leveled for the elegant new building.
At the time, cows still grazed around the new parliament building. Gradually, a residential district of tall townhouses, also designed by Bulfinch, was built around it. A number of well-heeled figures moved into this smart quarter and, as demonstrated in Louisburg Square, housing is as expensive as it has always been. The influence of blue-blooded residents is reflected in the local shops - middle-class designer clothes are sold in boutiques next to row upon row of antique shops.
Copley Square
Plans to build Copley Place were the subject of controversy for years. Should a shopping and entertainment center be tolerated on a nearby 10-acre site within view of historic buildings? In fact, the complex with its shops, cinemas and restaurants confirms the thesis that old and new can be combined in city planning.
Copley Square is convincing proof of this. A series of architectural jewels, such as the Boston Public Library from 1895 and Trinity Church, a neo-Romanesque sacred building from 1877, surround the park located at a busy intersection. In the background, modern skyscrapers, like the futuristic Prudential Tower and the John Hancock Tower with a façade made entirely of glass, soar into the sky.
Freedom Trail
The Freedom Trail offers a good opportunity to get better acquainted with Boston's historic city center. The starting point is Boston Common. This large green space in the heart of the inner city used to be used as grazing land, a military camp and a place of execution.
From there, a red line on the asphalt demarcates the 2.5-mile trail leading past more than a dozen sites of interest associated with the Revolutionary War: hence the Granary Burying Ground, where several of the signers of the Declaration of Independence rest in peace. The historic trail ends at the Bunker Hill Monument in Charlestown. In 1775, American militiamen and British soldiers faced one another in a battle on nearby Breed's Hill for the first time.
Louisburg Square
Louisburg Square in the middle of Beacon Hill is still among the top residential addresses in Boston. Elegant, red brick buildings surround a narrow park between Pinckney Street and Mt. Vernon Street. The rowhouses were built around 1840.
Boston personalities such as the publisher of Atlantic Monthly, William Dean Howells, or the author of Little Women, Louisa May Alcott, could afford the high rent. In 1852, Jenny Lind, a famous opera singer at the time, tied the knot at number 20 and almost president John Kerry and his wife Mrs. Teresa Heinz could also call this address home.
Museum of Fine Arts
Since 1909, the Museum of Fine Arts has been housed in a Greek-style building designed by architect Guy Lowell. Thanks to the financial power of Bostonians with a penchant for art, a collection has been created which, not just because of its excellent exhibits by American artists, is considered to be among the world's best.
Paintings by Gauguin, Van Gogh, Renoir and Monet, complemented by a variety of significant Asian art are all featured. Owing to its involvement in the excavations at Giza, the museum has been able to build a magnificent collection of Egyptian and Nubian art.
New England Aquarium
Some 12,000 different species of animals and plants are exhibited in this colorful museum. Each of several large aquariums recreates the habitat of a different type of underwater world. The ultimate highlight is an 26-foot high salt water tank with a coral reef. Here, you can marvel at dozens of species of circling coral fish, tortoises, perch and even sharks.
On four levels, visitors can get a close-up view of the different strata of which a coral reef is composed. There are also guided tours and shows in which sea lions perform, both several times a day. The aquarium is also connected to an IMAX theater which projects informative and impressive films on the underwater world on its gigantic screen. Finally, those who wish to can book a whale watching trip out to sea.
© Berlitz Publishing/Apa Publications GmbH & Co KG, Singapore Branch, Singapore
Other articles: HEALTH, BEAUTY, LEISURE
SEE MORE